I'm seriously terrified of meeting Linkin Park.
Usual back story. I have been a fan since 2023809 B.C. They helped me with living life and being here. But this isn't why I'd be scared. They are all very famous and talented, known all over the globe for being epic and awesome. ..Still isn't what'd scare me. I do consider every member to individually be a living, breathing incarnation of sexual energy and eroticism. It's not their fault, they were just born that way. -contributes to, but isn't the Reason I'd be scared.
I'd be scared because I have a tendency of blurting out what's on my mind in high-pressure situations.
So I would very probably say something regrettable and irrevocably stupid.
I'd be there, standing in front of them in all their glory. In my mind I'd be all "fangirling",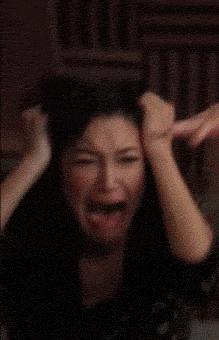 but in reality I'd be trying to play it cool
I'd say hi or whatever.
They'd say "Thanks. Thanks for coming out." in their Rock-Star-patented "generic friendly" (but surely heartfelt) manner.
Then, With THIS tragically angelic creature in front of me:
I would naturally have said,
"Michael Shinoda, You are so fucking sexy that it is a testament to human will that I am standing here in front of you and not tearing your clothes off."
Thereby, instantly destroying any chance of civil conversation between us in the immediate future. And I am dead serious. I'm sure he's heard worse (which is actually kind of funny, I'd like to know what..) but it wouldn't help my situation. -_-
Epic fail?
It's kind of lame because you DO only get to see them for like 2 seconds. It's not like back in the day where they'd hang out with the fans after the concerts (oh if only). Not sure if I'd have the same reaction on text though. Like if i talked to one of them online.
Oh well, guess I'll leave it to dreams.
How do you think You would react to meeting them?