Linkin Park has officially launched the 11th brand new edition of the Linkin Park Underground. This edition has several new benedits and features inspired by fans suggestions about Lpu.

Here are some of the new features of Lpu 11: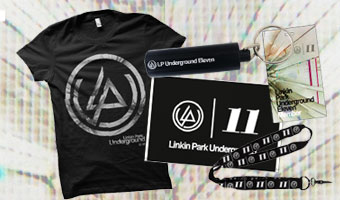 A brand new website and online community EXCLUSIVELY for LPU members.

FREE worldwide shipping for LPU11 Annual merchandise packages.
The
LPU Annual Membership is $60.00 and the Annual Membership + LPU11 CD $65.00.
The membership will include:
Limited Edition LPU11 merchandise package including T-Shirt, 2x3 Flag, Ear Plug Case with Ear Plugs and Laminate with Lanyard [plus the Lpu 11 CD for those who will purchase the annual membershpip with the Lpu 11 CD]
Access to LP events including International LPU Summits.
Chances for Meet & Greets at Linkin Park concerts
Early entrance to Linkin Park shows
Also some new online benefits:
Access to Ticket Presales for the Best Seats.
Exclusive Live Video Chats with Linkin Park
Giveaways of LP gear & fan experiences
Access to the entire LPU-TV & LPTV download archives
Online community access to connect with other LPU Members
US Package Arrival Time: 1 - 2 Weeks. International Package Arrival Time: 2 - 3 Weeks
Monthly Membership$10.00
The brand new Lpu 11 CD will include some unrealed songs and demos
of the past albums:
1. "YO" (Meteora Demo)
2. "Slip" (1998 Unreleased Hybrid Theory Demo)
3. "Soundtrack" (Meteora Demo)
4. "In the end" (Demo)
5. "Program" (Meteora Demo)
6. "Bang three" (What I've Done Original Demo)
7. "Robot Boy" (Test Mix, Optional Vocal Take)
8. "Broken Foot" (Meteora Demo)
9. "Esaul" (A Place For My Head Demo)
10. "Blue" (1998 Unreleased Hybrid Theory Demo)
What is your opinion about this latest Lpu edition? Do you like it?